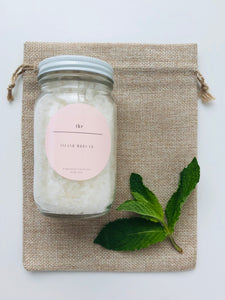 INGREDIENTS: Dead Sea Salt, Sweet Almond Oil, Peppermint and eucalyptus Essential Oil
BENEFITS:
Helps Stimulate circulation
Detox body from toxins
Helps Balance skins natural PH levels
Helps Ease muscle cramps
helps relieve stiffness in joints
USEAGE: Pour 1/4 cup into bath while water is running. Mix the water and bath salts to ensure they are melted and distributed well. Get in and enjoy. We like to relax for at least 20 mins.
CAUTION:*Move slowly and carefully when getting out of the bath & drink plenty of water whenever detoxing your body
**Heart patients & pregnant women must follow the advice of their physician before taking baths in which magnesium is used.